Ladies and gentlemen, get your heart eyes at the ready as we introduce you to our newest resident; Monte Carlo the baby koala!
He's so cute, he's so fluffy... **Insert inaudible oos, awws and mushy baby coos**
Little Monte Carlo may only be eight months old, but he's already proving himself to be stealing the show at Rainforestation! The little fella first started emerging from his mum's pouch a couple of weeks ago and has been since making customers and keepers squeal with his ridiculous level of cuteness. We challenge you to watch the video below without squeling, eeing or awwing! (Yes, its basically impossible)
About Our Baby Koala
So where exactly did he get his genes that gave him the koala-fications to be our cutest koala? Monte Carlo's parents are Vovo, who was born at Rainforestation and Sunny, who has been on loan from Currumbin Wildlife Park for the year. Incredibly enough, Vovo, who is now four years old, was the last baby koala to be born at Rainforestation Nature Park. The arrival of the little fella shows promise for future breeding programs at Rainforestation. Next breeding season, we hope to hear the pitter patter of many gum-scented little paws.
A Rose Biscuit By Any Other Name Would Smell Be As Sweet
Monte Carlo is named after the popular Australian Arnott's biscuit, just like his Mum Vovo! We think that his name suits him, as he's a sweetie by name and by nature!
Monte Carlo is A Finalist For "Australia's Cutest Koala Joey"
Monte Carlo is a finalist for Australia's cutest Koala Joey.
Click here
or on the photo below and give the photo on Tourism Australia's Facebook a thumbs up or heart.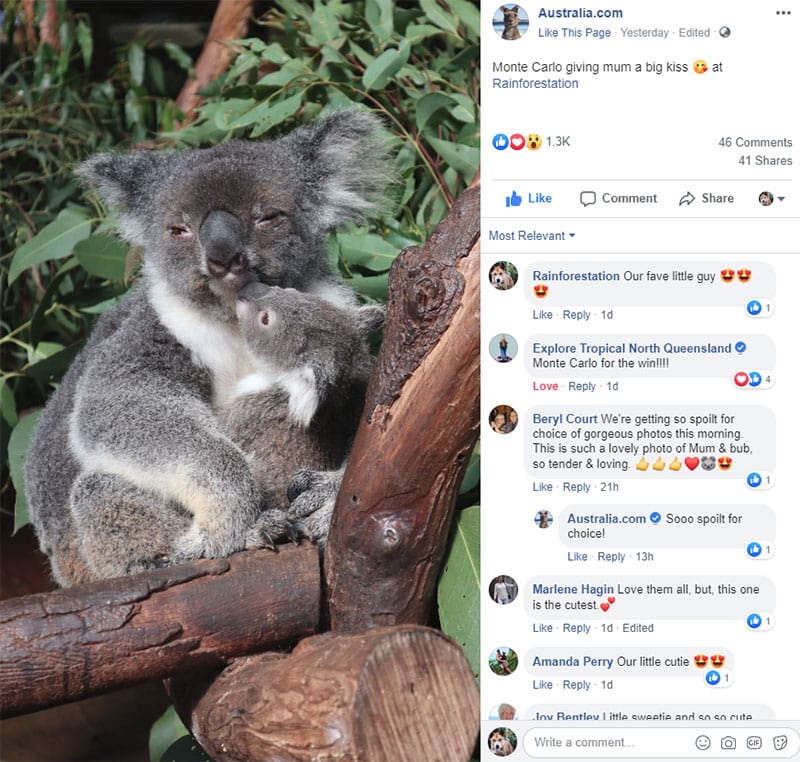 You can meet Monte Carlo at our Koala & Wildlife Park! Book now